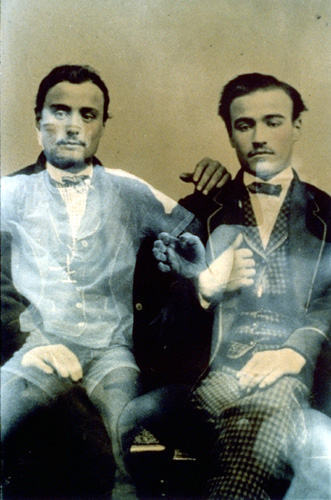 Last week Jane Delynn stayed over for a few days. She was in town reading from her new Semiotexte book, Leash, which promises to be a fun read. Degradation and submission, oh my! She has a motherly butch look, and the cutest little girly giggle. And then Robert Flynt flitted into town to speak at Camerawork and crash my guest pad. He's in a show called "Everyman: A Search for the Male Form," in which I am noticeably not. The same tired old hairless muscular young body is the subject of the mostly insipid and utterly drab work in the show. And then there's the intelligent and beautiful work of master collagist John O'Reilly and Robert's surreal and ethereal little gems to steal, if not save, the show. Robert and I traded two images each, and I am a happy little camper. Mysteriously, Camerawork called me today to ask for slides for consideration of including my work in an upcoming show on intimacy and erotics–right up my furry alley. Thank you Robert! Okay, so I get off the phone with Camerawork, and there's a message on my voice mail from RJ, the curator of the AC at the PotLoH. Okay, so I call back and leave a nervous as all get out message–I think I forgot to say my name, but I'll call back tomorrow and find out what the deal is. And yes, I would trade my soul to be in that collection.
I photographed the assmaster's masterful ass a few days ago for my Thundercrack! grid, but need to arrange yet another photo session. It seems that I need to make a white "Y" out of his thighs and lower leg to get this thing to work. Hmmmmm…
Movies this week included Y Tu Mama Tambien and The Cockettes, both fab films. Y Tu.. was one of those movies that you wait years for. I'm not going to tell you anything about it, except drop what you're doing and see it right now. The Cockettes, was equally enjoyable (plus my friend, David Weissman made it), and it left me yearning for fabulousness. After seeing it you'll want to drop acid, put some glitter in your beard and spin like a dervish in your grandmother's blue chiffon.
No comments yet.
Leave a comment
Sign up!
Categories
Archives