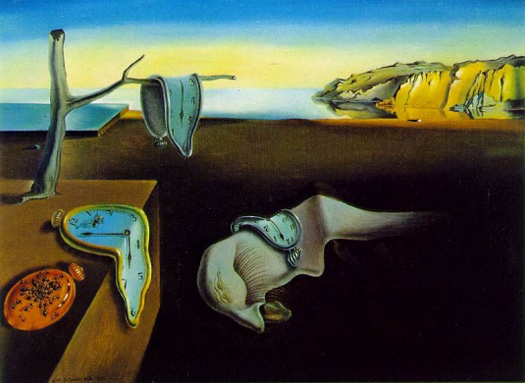 Hot, sweaty, moving from air-conditioned space to air-conditioned space… I am in Florida, enjoying a visit with my sisters, Carol and Sue, and their mates and daughters. Last night we all hung out in the driveway, in my niece Megan's car, listening to the Dixie Chicks and No Doubt on her new CD player, and then spent the rest of the evening looking at Carol's prints and ceramics. At 49 she decided to finish her art degree, having spent the last 28 years raising a family and designing dresses.
Today Carol and I went to the Dali museum. The Persistence of Memory was visiting from MoMA.
It was nice to see it again, one of Dali's really satisfying works. The museum presented sanitized interpretations of these paintings that are so filled with sexual anxiety that even I get nervous around them. His later paintings, called Masterworks, are beautifully painted and visually thrilling, but are weighed down by grand themes that are less interesting to me than his sexual anxiety and Gala's vulva.
Last night's dinner:
– Salad of romaine lettuce and hearts of palm
– Zipper peas
– Fried okra
– Steamed squash with vidalia onions and butter
– Alabama white corn bread with local tangerine marmalade
– Sweet potato pie
Mmmmmm….
No comments yet.
Leave a comment
Sign up!
Categories
Archives