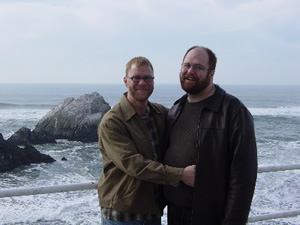 Well, it looks like "It's over" means something with a little more flexibility than I had thought the other night. My life and art are very much intertwined with things Big Chrissy, so I appreciate the chance to continue working together towards something really wonderful.
I hopped out of bed yesterday morning and ran quickly down to the market to pick up some apples and flour, zoomed up the hill to Chris', popped a pie in and out of the oven, and was immediately swept away by Dave and Dave, who treated us to a lunch at the Cliff House. I've been here 19 years, and I've never been, except to visit the Camera Obscura, the Musee Mechanique, etc…, and the buffet was really great, with spectacular views of Seal Rock and huge waves. They need to tear it down and rebuild the Victorian building, though, and Sutro Baths while they're at it…
Chris and I spent the rest of the day making the best chilli that I've ever had, and that we'll all be eating for the next month, hot dogs specially chosen for the Pratt, home made cornbread, etc, etc… and only after an hour past the time when The Pratts were supposed to be there did someone say, "Did you talk to The Pratts about tonight?" Well, it seems like there was too much communication, but none of it very successful, so sadly we dined sans Chris and Dan. We must try again, for I miss those guys whom I've met only once but have grown so fond of through their online presence and cute pictures.
The boys and I then went to the Stud, where Chris and I were approached by several bloggers who had actually read our journals, we bobbed our heads by the dance floor, looking so thirty- and forty-something, while Dave and Dave went off and made out with several guys at the bar. They are something, those Daves, and should be in charge of all libido-related activities.
No comments yet.
Leave a comment
Sign up!
Categories
Archives