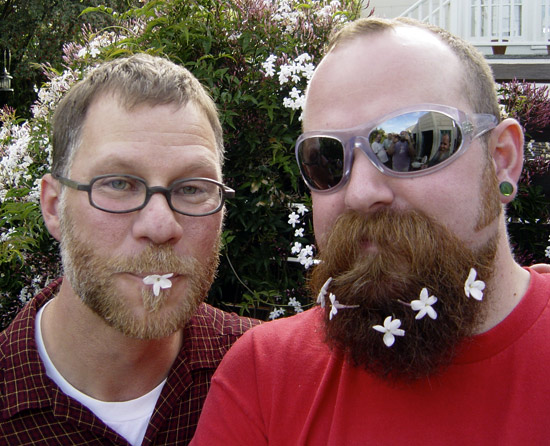 The weather was perfect, Mamoosh showed up with a handsome new beau, John, architects Eric and Seth bonded on my code-violating deck, Funkybear Martin was just fabulous and as bright as the day, whipped cream hanging from his whiskers like an invitation, Paulie snuggled up to BC and Iain on the couch inside, Paulie couldn't tell if the music I selected was music or the walls, Dean and Doug are off to Paris in a few weeks, Nathen's blue eyes were just dazzling against his blue shirt, Chris J may have gotten a new garden design commission from my neighbor Arnie, the former airline pilot and "other woman" to not one but two handsome, considerably-younger men, Arnie and fellow-retiree Ralph still think of me as a twinkie despite the grays, the wrinkles, and the extra 30 pounds, Sarah described some exciting new work for her Marjorie Wood Gallery show opening in May, Reese arrived fashionably late dressed as a silent film star but failed delightfully in staying silent, the ginger/pear/champagne punch was delicious, Jeff has lost 50 pounds in the last 6 months by not eating exactly what I served at the party, Philip reconnected with lost friends, including the Nick Dong-less Jeff, Victor is spinning on Sunday nights now at the Eagle and has Saturdays free for garden parties, my 3-month old niece experienced her first party, my brother and sisters converted Bob's office into a diaper changing facility, who was that adorable Kris that I didn't get to bond with, mid-western Don charmed us with his mid-western charms, Cameron won the award for Most Gravity-Challenging facial hair, and who was the cute cub on his arm again, Rainey and Joe soaked up some sun and showed off their oily muscles, Alex and my former heartthrob Garry talked of Jewish mysticism, Garry showed obvious disappointment when he learned that Gershom Scholem's Major Trends in Jewish Mysticism was on Bob's nightstand and not mine, Steve and Jack talked of electronic fig leaves, their friend Bela was most cuddly and should cook for me some time, 6 people represented those without facial hair, 50 shortcakes were ingested.
All in all a very fun party. Thank you all for coming and bringing such sweetness and cheer into my home.
Stay tuned for the Mid-Summer Swinging-Bachelor House-Rewarming Divorce Party and Ball. I think that I'll ask everyone to bring along a single bachelor to try on my glass slippers.
No comments yet.
Leave a comment
Sign up!
Categories
Archives