I had to cross the Anita Monga protest line last night at the Castro and see O Lucky Man, a movie that I've been avoiding seeing on video and waiting for years to see on the big screen. I had a very long talk with the leader of the protest and pledged my solidarity with their cause to bring Anita back home, and promised to boycott the concession stand and write a letter to the Nassers.
My moral wavering was so worth it, the movie was dynamite. Malcolm McDowell was the Ewan McGregor of the early 70's, almost always stripped of clothes and subjected to all sorts of perverse torture introduced by whichever auteur director wanted him spanked and smiling.
Over the last week I also saw Meet the Fockers, Sunday Bloody Sunday. Umberto D, Band of Outsiders, The Life Aquatic With Steve Zissou, Kim-ki Duk's Samaria, Love and Death, The Long Good Friday, In the Realms of the Unreal, Bride and Prejudice, A Very Long Engagement, Before Sunrise and After Sunset. I seem to be drifting back to the French and English new wave, or wanting to, but also want to get caught up on recent releases. Before Sunrise and After Sunset reminded me a lot of the films from the 60's, not in the sense of style or shattering conventions, but in a return to dialogue. I could have followed those two around Paris and Vienna all day. I need to know more about Bresson, yearn to see more Ophüls, but none of his great films are available on dvd, and want to be Lindsay Anderson when I grow up, flash bulbs popping all around, sagging tits and in a tight red polyester shirt, sunglasses and bald spot. I only want to be a film maker to look hot at 60 with sagging tits, polyester shirt, sunglasses and bald spot.
But anyway, O Lucky Man was epic without ever loosing its intimacy, the humor subtle and sharp, and the visual structure a pastiche of technique and form. At one point the film suddenly shifts to a widescreen format, with no corresponding shift in the film's emotional or narrative scale.
There wasn't that much to really want to remember this holiday–my parents and sister visited which was actually a very good visit, lots of parties here and there, Bob wrote me nasty letters and called me the Wicked Witch of the West, then asked for half of my house but wished me a happy new year anyway and thanked me for the book I sent him, Big Chrissy has been sick for weeks and I am gonna need some serious wild monkey horizontal mambo like soon, D's still working at getting better and we're gradually taking him off his meds so maybe he'll be less zombie-esque and more like the actively passive/apparently competent hypersensitive life of the party that I once knew.
Les (is more) Wright is arriving shortly, for a two-week re-investigation of Bay Area life and culture. He'll be crashing in my office, so come by and say "Woof," or "Moof," or just "Hi, Les." Better yet, take us out to dinner!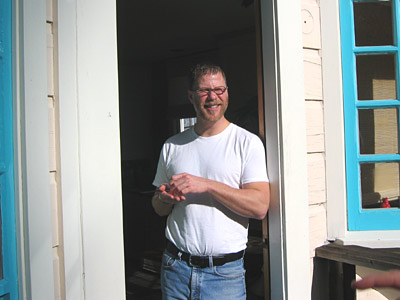 Cevan the Landscape Designer was at a Christas Eve party at my sister, Diane's and said that I looked like a chipmunk. I looked at pictures that sister Sue took, and I do! Could the Chipmunk be the next "Bear?" I'll host a Mr. San Francisco Chipmunk contest to raise funds for at-risk-trangendered-youth and organize an alley fair! I'm a little chipmunk! Finally–I'll just eroticise myself! And my sisters could make the outfits!
I've forgotten what my subject was. I saw The Bad and the Beautiful again the other day, and was so wowed by Lana Turner's hysterical breakdown while driving in the storm, lights coming from all directions and horns beeping and cars careening by–I want to remake that scene. It is the most accurate representation of my late 30s.
Enough already.
No comments yet.
Leave a comment
Sign up!
Categories
Archives