Remember my movie? I was supposed to start shooting this month. I really need to stop making these big announcements about what I'm going to do, and tell you instead about what I actually did. Well anyway, I've put off making my movie because of this New York show, so never mind about my being a filmmaker for now.
Boring but exciting photo news: Hasselblad has finally embraced digital technology, merging with Imacon, one of the main producers of digital backs for medium-format cameras. They're producing new cameras with digital integration, and digital backs for older cameras. Now we don't have to ditch our old equipment. The cost seems to be coming down, too, from $20,000 last year to $9,800 for a 16-megapixel digital back. Being able to work directly with digital imagery will take out an expensive and quality-reducing step currently necessary to make prints from my chromes. The cost still remains the only barrier between me and digital freedom, but I'm hanging in there, remembering the $150 price tag on my dad's 1972 8-inch calculator.
Dean and Doug came over for dinner last night. Linguine with clams, a salad of arugula and orange, and chocolate cake for dessert. They didn't seem to get my Limoncello. No one likes it, except me, The Cough Syrup for Boozers and Losers. But I know it's good! What's wrong with everybody? We talked more about politics than usual and then I had a weird dream about D, falling out of the window and bouncing down Collingwood Street. I'm sure it has to do with my fears of his leaving the nest, even though he seems to be getting along so well these days, being much more sociable and engaging. So back to Dean, he and Doug invited me and BC to their place in the country this weekend, so never mind about them, more about them later…
Here's the groovy mid-century Light-o-Lier lamp that I just got for my hallway! Vintage lighting is my new blankie.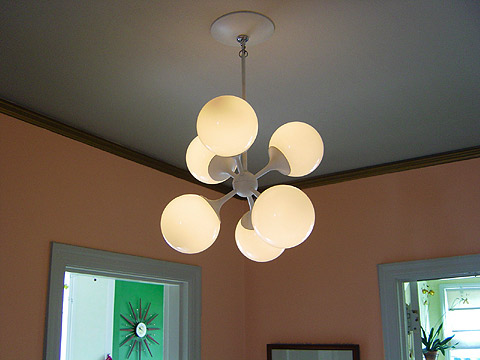 No comments yet.
Leave a comment
Sign up!
Categories
Archives