So Big Chris and I schlepped over to Chinatown for Christmas dinner with our Jewish friends at Joe's Shanghai. It was like being in a Woody Allen film—we waited in line for an hour, the PhDs in front of us discussing their research funding, the graduate student nervously interacting with his visiting mom and dad, someone reading Dostoyevsky, lots of yarmulkes. In addition to our main course, we accidentally ordered two plates of soup dumplings. Of course, we ate them all, having watched a video on YouTube earlier about how to not eat them like a caucasian, and perhaps overeager to display our advanced dumpling handling techniques:
And then the snow came. Like lots of it. So we went to the Whitney to snuggle up with the Paul Thek, Charles LeDray and Edward Hopper shows.  I just love Edward Hopper.  He's so breathtakingly boring, all those desolate exteriors and empty storefronts, but so of his time, and such a great handler of paint and shadow.
Also engaged with the mundane, Charles LeDray's show featured dynamite manipulations of scale: miniature hand-thrown and painted ceramic pots the size of thimbles, thousands of them; tiny outfits hanging from tiny hangers… what a nimble and inventive craftsman.
And then on to Paul Thek, who made sculptural installations before all those crappy scatter art things that we keep having to  wade through in all the galleries these days.  In the context of the museum, detached from the environments and performances that the artist staged, the works felt like, well, like the hunks of meat that he created out of wax—parts of something once very much alive.
Back up to Times Square that evening, we got tickets to see Jeffrey Wright in A Free Man of Color, John Guare's boisterous new play about a pre-historic (1802) sexually charged, racially progressive New Orleans, just prior to the Louisiana Purchase. I was just happy to see Jeffrey Wright and to thaw out my feet.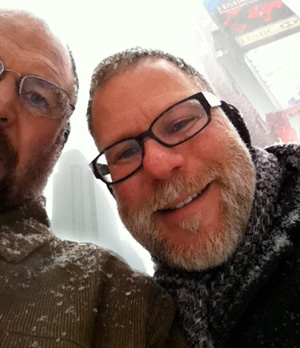 2 Comments to New York: Christmas Weekend
Leave a comment
Sign up!
Categories
Archives