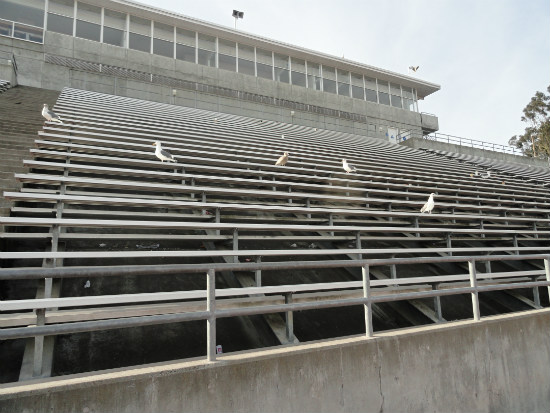 Turning 46 has been a little strange. Actually, turning 39. Then 40, 41, 42, 43, 44, 45 and now 46. It seemed for the longest time that so much was to happen in the future: having a gallery in New York; getting my MFA; lunch at el Bulli. Prior to 39, failure hadn't mattered that much to me, there was always time…
Last month I dined with a group of delightful, erudite, charming, and, thankfully, mostly older A-gays. (You can read an older post here for details about this particular society.) I sat next to the real life inspiration for the Tales of the City character played in the television series by Bob Mackie, "Rick Hampton." His manner was the perfect combination of bitchy and clever—engrossingly intimate and effervescently droll. Nestled in the comforting fine wine and witty banter of the previous generation, I was temporarily relieved to feel not yet old guard myself.
Bud, 2011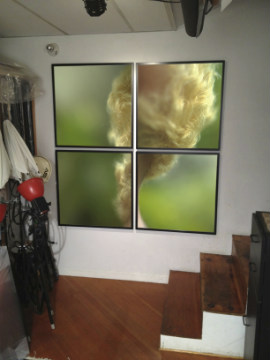 I understand that the mid-life crisis is supposed to peak around this time, and that for most of us, mediocrity suddenly becomes fun. I'm kind of stuck in wanting all this specific stuff to still happen, but am getting really nervous about it not happening now. Do I shift my expectations and just continue what I'm doing, or do I do something entirely different with more realistic and actually achievable goals?
On the left is a photo of one of my new pieces, hanging in my studio—Bud. It's of my Foreign Correspondent's head, the day he bleached it blonde and ran off to the Folsom St. Fair in leather chaps and a rash.
deKooning's first New York show was at age 44 Raymond Chandler started writing at 45. This is my "nam-myoho-renge-kyo," my soothing mantra. In a few years, I'll be chanting something about Grandma Moses…
A few weeks ago my bears and I took a drive up the coast for a hike and lunch in Guerneville at Boon. Boon is a gem of a restaurant, a foodie oasis in a desert of hamburgers and iceberg lettuce. The ingredients are from local farms, and are integrated into dishes that vibrantly highlight individual flavors. We had brussels sprouts deep fried in olive oil; a salad of calamari, white beans and arugula; macaroni and cheese with wild mushrooms; truffled french fries; a pork belly panino; and a chocolate brownie wading in a little balsamic reduction puddle and topped with sea salt and whipped cream.
My family came to visit for Thanksgiving. I jammed 24 of them into my living room for a sit-down dinner. My nephew Nathan slaughtered the turkeys a few days before, two free-range moderately buxom beauties who, during their eventless lives, enjoyed the Sonoma County air and grass in blissful gobble-gobble obliviousness to their digestive fate.
I saw Le Quattro Volte the other night. What a satisfying film, probably my favorite of the year, after Wong Dong-Li's Poetry. It's about the transmutation of a goat herder into a goat, a tree, and ultimately charcoal. Each stage is so attentively and patiently observed. A scene of the townsfolk presenting a Passion play in the streets focuses on a dog poking around, aware of absolutely every person, animal and thing, the goats looking on as if viewing a theatrical production with the dog the absolute center of attention. A lot of critical attention has been directed towards The Artist, another film that uses no dialogue, but I feel like this film brings to mind the true essence of silent cinema, where the narrative unfolds visually and the audience reads by observation. An understanding that people are—or can be—intelligent guides the film's narrative, kind of like what the Republicans don't do.
My niece and nephew had a baby. It's one of those perfect little babies that squeaks and smiles and gets everybody talking about poop and breasts and flexibility.
My Foreign Correspondent moved. He got a job in New York and sold his possessions and moved within a week. His ability to shift gears so radically and decisively left me dizzy. And a little angry. Like, why couldn't he do that with our relationship? Sigh.
No comments yet.
Leave a comment
Sign up!
Categories
Archives