So today I snuck away to the beach with my sister and brother-in-law. To a beach full of bronzed thin guys in tight trunks—the gay beach. I sat next to a litter of baby lesbians, with tattoos, dyed cropped hair, either really big bazoombas or completely flat chests, baseball caps and piercings. They splashed around in the water, threw frisbees, drank beer and played that ball game with the velcro mitt.
The gaggle of gays on my left wore nothing but constrictive swimwear, and an occasional tattoo. Each bathing suit looked sewn onto each chiseled perfectly tanned body, with horizontal stripes that bulged elliptically and calculatedly. One guy's bikini was vulgarly efficient in enhancing basketry that needed anything but enhancing. And fuscia to boot. Every time he promenaded by, that glowing protuberance commanded my attention like a fiery slow-motion fuscia comet about to crash into me. There was one guy whom I could not believe was real, with bubbly comic book super hero muscles and dark chocolate skin that didn't reflect any sunlight, a bonbon swaddled in a flimsy yellow wrapper.
Okay, so there were the lesbians frolicking and laughing and having a blast in the water, but the gays limited their activity to slowly sauntering along the water's edge—each one turning his head 90 degrees for one half second and checking me out as he passed. Or they would slowly sashay into the water, to just above the ankle, and stand there. Stand there, in the water. Like ikebana.
The prettiest flower on the beach, my sister Carol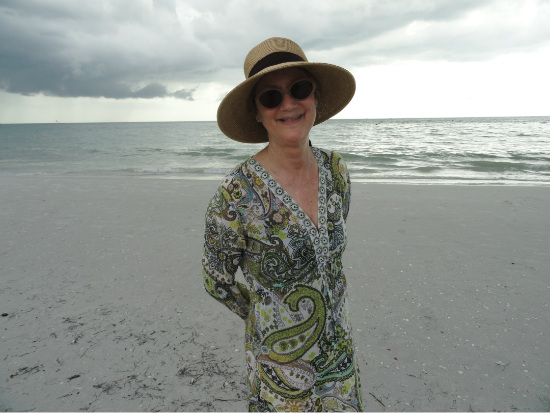 1 Comment to A Gaggle of Gays, a Litter of Lesbians, and My Sister & Brother-in-Law
Leave a comment
Sign up!
Categories
Archives