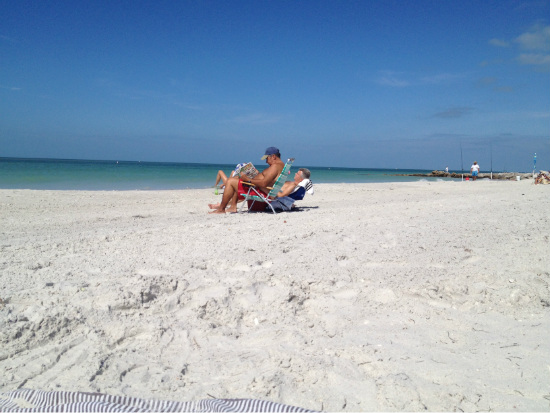 Today I had the beach to myself. Until the bronze furry-bellied chubs came along. Unlike yesterday's crowd of youthful mostly slender gays and lesbians, today's was consistently of a more mature, girthful constitution. The first one to come along made a beeline to my spot on the beach and asked for help understanding the parking meters. I willingly assisted the portly beach enthusiast-in-distress, who ultimately settled down a few feet away, and asked for yet another favor, to slather his fuzzy back with sunscreen. Is this starting to sound like a porn movie? To dispel those sorts of expectations, I'll tell you now that there are no Happy Endings here, this was more like a 70s soft core beach flick starring someone like Raquel Welch and Oliver Reed. I was very happy to oblige with the sunscreen, and we struck up a conversation and fell into a remarkably easy and intimate exchange as we continued applying sunscreen to subsequent limbs and expanses. He told me he was in a monogamous relationship of 22 years, visiting from New York, and that he had popped down to the beach for a quick dip in the Gulf before joining his partner for lunch. I told him of my current dating life, of my former partners, we chatted about love and fidelity, of our mutual embrace of long-term entanglements. Our enthusiastic touching and conversing about fidelity stimulated a response requiring a great deal of diversionary posturing, so in lieu of public beach infidelity, I suggested that he channel the titillation towards a wonderful evening with his partner. I recommended that he tell him that he met this hot stud on the beach who, while applying sunscreen to his back, brushed delicately but suggestively against his body, making tiny little grunting sounds, "Yeah, uh-uh," stuff like that, but that he calmly told his molester that he was a married man and was true to his one and only. I fed him more lines of dialogue, added more muscles and super-sized appendages, and asked that he think of me when welcoming his partner's proud and excited response, that he imagine me on the headboard, performing some dance with many veils and attendant putti.
There were about four couples who settled in around us, a convergence of coupledom each consisting of a more full-bodied furry fellow and a slightly younger slimmer paler companion. Who staged this for me?
And then this motorized Spanish galleon putted past…
No comments yet.
Leave a comment
Sign up!
Categories
Archives