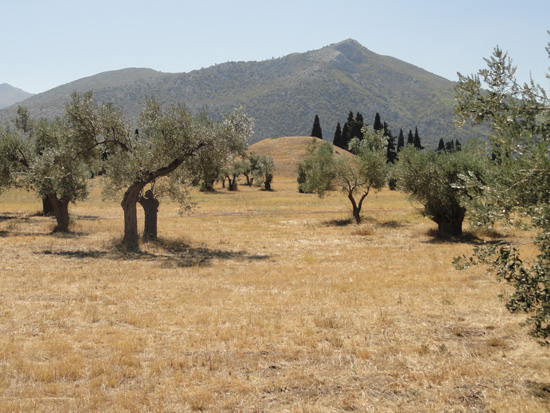 Marathonas is the site of the famous Battle of Marathon, when the Persians were defeated by the considerably smaller Athenian army in 490 B.C. The 192 Athenians who were killed are buried in a massive burial mound, surrounded by olive trees, not far from the ancient battlefield. Actually, pretty much everything in Greece is surrounded by olive trees, but here, it's particularly poignant to see a source of sustenance so close to those memorialized. Marathonas gets its name for the Greek word for "fennel," and means "a place with fennel." The long distance race, marathon, gets its name from the town. Legend has it that a single runner ran the entire distance from Marathonas to Athens to announce that the Persians had been defeated. Another legend says that he ran from Athens to Sparta to seek help. The legend about the announced triumph over the Persians is the one that seems to hold the most traction with the public imagination, but whoever did the running and to where, it was quite a hike.
| | |
| --- | --- |
| | |
Schinias Beach, near Marathonas, is a long stretch of sandy beach surrounded by whispy umbrella pine trees, about 45km northeast of Athens. The water is tranquil, the sound of the wind in the pines mesmerizing, and a few nudists are kind of tucked away in the shrubbery and sand dunes, adding to the sensory experience.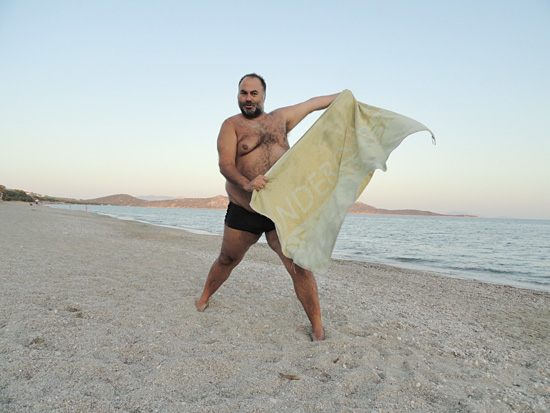 South of the beach, there is a temple dedicated to Egyptian gods, currently closed due to archaeological excavation, and a museum with artifacts and sculpture from the area, which I hope to visit before heading back to San Francisco—if we make it back to the beach. With just a week left on the trip, I'm kind of content just to stare at Stavros, my favorite visual experience.
2 Comments to The Stavros Chronicles: Schinias
Leave a comment
Sign up!
Categories
Archives