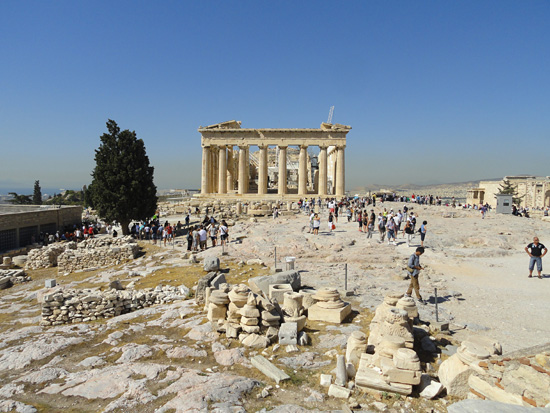 I visited the Acropolis yesterday, completely wowed by the intensive reconstruction and restoration work that's happened since my last visit in 2001. It's like the ultimate jigsaw puzzle up there, chunks of Parthenon everywhere, slowly being fitted into place. I managed to arrive just as everybody else did, at the time that every guide book says to avoid, late morning before lunch. The place was packed for an hour, and then everyone scurried down the hill to his air-conditioned tour bus.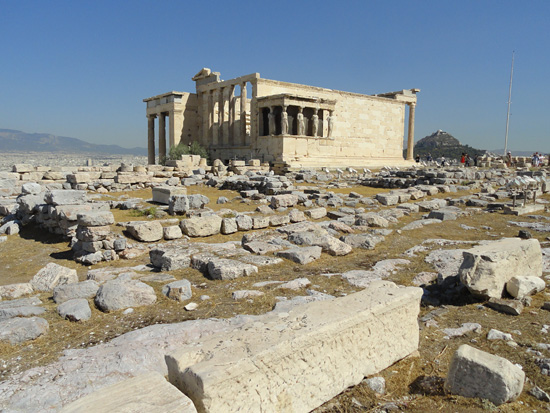 While Stavros has been at work out of town the past few days, I've turned on GROWLr, the iPhone hookup app that is my principal means of communication with my slutty friends around the world—seriously, to talk to my friends. If I were a different kind of bunny, that is, a hussy, I would be entertained daily by quite a number of almost desperately available Athenian men who text me throughout the day offering all sorts of varied opportunities for live bunny action. Two cab drivers, perhaps independently of each other, each asked to pick me up in his cab, one for a particular activity in the car itself, the other for a get-to-know-me rendezvous with his boyfriend. I thought it might be the new-kid-in-town syndrome, but actually, I think it's just that they've all gone through everyone else in town. Oh. The new-kid-in-town syndrome, then. It's certainly nice to be getting all this attention in my steadily-advancing state of decay, but I'd prefer a crop of marriage proposals tossed at me all day, instead of all these pictures of Greek underparts.
Chrissy always gets mad at me for chatting with these strangers. "You don't have to respond," he's always telling me. I was raised in the south, where my friends all called their dads "sir," I just find it hard to be rude. "Thanks for the nice picture of your substantial appendage, handsome, have a great day." This response invariably is followed by "You're welcome, stud." And that's that, end of conversation.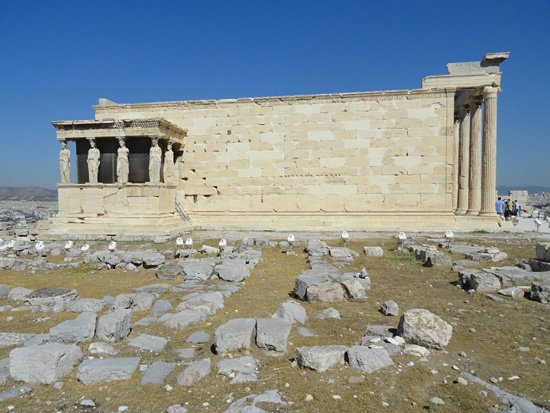 Today I had coffee with a new friend, Costas, a really sweet and gentle soul, who seems a bit frustrated by the ease of sexual possibilities around town and the difficulty of securing more substantial commitments. We talked about our various relationships, past and present, the current financial crisis, and racial unrest in Athens.
The neighborhood I'm staying in has a large percentage of African immigrants. Most people I've spoken to about it are negative about their presence, citing falling home prices and shuttered businesses in the neighborhood, crime, drugs, white flight. I can't see the negative stuff, though, I see really beautiful people who probably suffered horrendous atrocities in their country and are now forced into degrading menial jobs, if they get jobs at all. I haven't seen a single black person in any visible job—except selling trinkets near the Acropolis or on the beach. Now I'm speaking in almost complete ignorance of the day-to-day reality of the immigrants, and am confining my observations to a fairly limited area, so don't go quoting me anywhere.
For the past three nights, outside of Stavros' apartment building, the Golden Dawn neo-fascists have gathered, loudly, and taunted the neighborhood black guys, sometime chasing after them with pipes. Car windows have been smashed, fist fights have broken out. I and all of Stavros' silver-haired neighbors gather on our balconies in our underwear to watch the activity on the street below. I have no idea what's going on, as Stavros has been away since the nightly gatherings started and I don't understand the Greek screams, like watching a foreign action film with no subtitles. Tonight they broke into an African cultural center below my balcony window and destroyed it, while the neighbors and police did nothing.
I leave Athens on Friday morning, heading back to San Francisco. I've become so enamored of Stavros, enjoying his wit and delightful presence, his grand beauty, his scrumptious Banoffee, his sort of trumpet-sounding melodious voice. This must be what it feels like the night before going to prison, the last taste of pleasure before isolation and deprivation.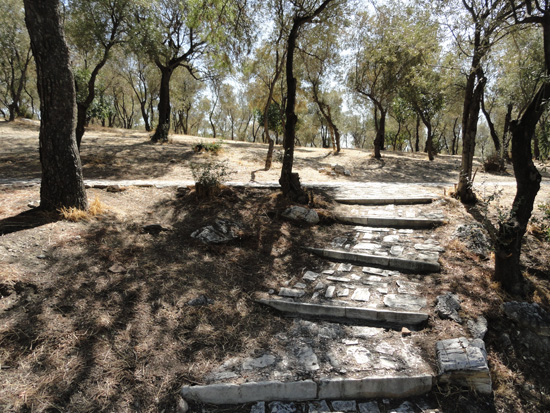 No comments yet.
Leave a comment
Sign up!
Categories
Archives