On the island of Naxos, in the Greek Cyclades, after visiting the giant kouros at Apollonas and on the road to Moutsouna, Stavros and I chanced upon a woman carrying a bag of very nice looking bread. Stavros, interested in procuring as many local products as possible, asked where she purchased her loaves and then we headed to find the bakery in Koronos, a town in the north central mountainous region of the island that we hadn't really considered visiting, and even on entering, didn't seem very interesting. Everything seemed closed, the village quiet and still. Stavros asked a man working on a construction project if he knew where the bakery was and if it were open. He said no, it was closed, but that he'd call Matina, the owner of the bakery, and have her open it for us. She quickly appeared and led us up and down the wiggly stairways of the hillside village to her bakery. The cavernous, ancient oven was still warm. For 2€ we purchased one of the last tire-sized loaves of her delicious bread.
Trying to find our way back up the hill on the white steps, past blue-trimmed white house after blue-trimmed white house, we tumbled into a square that seemed like a film set: colorful vine-covered arbors, blooming flowers everywhere, chirping birds, live music… and a taverna called Matina Stavros–a different Matina from the baker, and not my particular Stavros. We settled down at a table on a platform under a tweeting parakeet and near a large group of ebullient middle-aged women from Athens who were visiting a friend in the village. They danced the entire time they ate, taking only a few breaks to fill their plates with Matina's delicious food. At one point Matina joined in the dancing, and then their bus driver. They even danced over to our table at one point and screamed "Welcome! Enjoy your time in Greece! And this magnificent day! And this magnificent food!" Indeed the food was scrumptious: a selection of homemade cheeses and wine, tender roasted lamb just falling off the bone, dolmadaki flavored with local spices, spanakopita with thick leaves of filo, a salata horiatiki with soft cheese, also homemade… I looked at Stavros and burst into tears.
I still don't know why I started crying, why so swiftly overwhelmed with emotion. Since my sister's death, I've been walking around with a cloud of sadness hanging over me, but I usually cry in response to things specifically related to her. I had no clue. I tend to get weepy again thinking of the pleasure that I saw on the faces of these women, their easy unrestrained passionate love of life and food and music and each other. The food was simple, homemade, but each plate was perfect, each ingredient lovingly chosen, grown, or hand-crafted. There was the man of my dreams sitting across from me. We were sitting on a stage set in the mountains of an island in the Cyclades. Everything was cinematically pitched towards perfection, but somehow an idea of impermanence, the ephemeral nature of pleasure, maybe, crept over me. I've found someone that I want to spend the rest of my life with, but we spend a few weeks together and then months apart. I want to be in this movie always. These ladies were in the moment, and living it as fully as they could. Perhaps I let my such moments get interrupted by a need for something more, something out of reach. Perhaps I was melancholy that I couldn't share this moment with my sister. Thinking about that day, tears still come to my eyes, but with a new-found appreciation of what's actually on my plate, while it's still there anyway.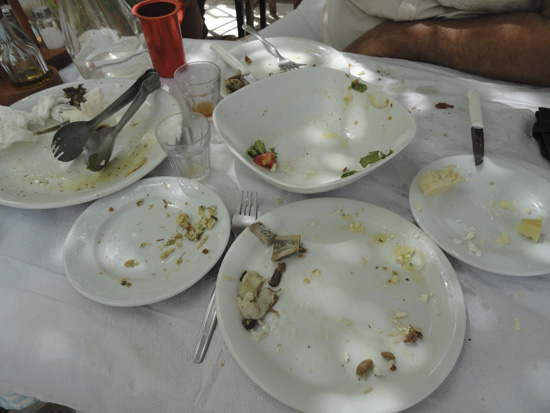 No comments yet.
Leave a comment
Sign up!
Categories
Archives