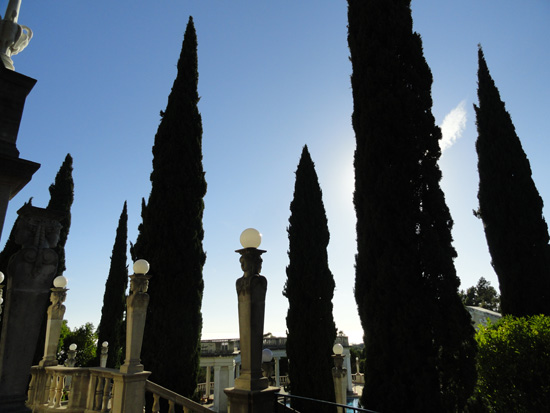 The Major and I took a little road trip down south earlier in the week, to visit San Simeon and Hearst Castle. William Randolph Hearst worked with architect Julia Morgan for 28 years, starting in 1919, designing an estate to showcase his vast collection of European decorative and fine art.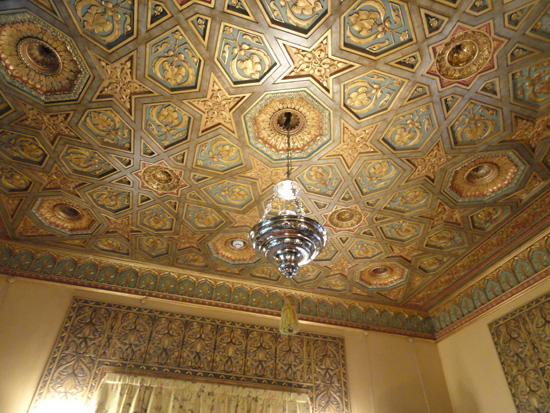 The castle is the only structure visible from the coast road, enshrouded in fog and ringed by tall palm trees that poke out conspicuously from the surrounding landscape of dried grasses and live oaks. Driving up the windy road, the castle is glimpsed every now and then, looming closer and closer into view. The landscape is beautifully untouched. A mile-long arbor runs alongside the road, once covered in grape vines and espaliered fruit trees and flowers. Inside the castle gates, the formal lushness of the gardens contrasts delightfully with the spare natural features of the encircling hills, peppered with clean white marble statues–original and reproductions–from Ancient Egypt to the early 20th century. "The statues are white because we don't have air pollution down here," our tour guide emphasized while looking over her sunglasses into the eyes of the scruffy Parisians standing next to me.
The grandeur of the architecture and the exquisite craftsmanship and clever integration of antique european ceilings and structural elements are overwhelming. There's nothing modest here, except a complete absence of art or architecture of Hearst's own time. It's a Disneyesque museum of european architecture, decorated with artwork purchased at a time when Europe was recovering from a World War and selling off its shattered cultural heritage. A guide told me that Hearst saw himself as a protector of sorts of these objects that he feared would have been destroyed in the wars. Lord Elgin on a shopping spree.
On the drive down, the Major played the music of Britney Spears, Lady Gaga, the soundtracks of Glee and Smash, and several of those really loud screechy singers of the early 80s who paved the way for other even louder screechy singers like Whitney Houston and Jennifer Hudson. He gleefully accompanied every song. I intervened urgently at one point with some Nina Simone, but after two songs and fidgety silence from the Major, he blurted out, "Could we listen to something happy?"
The Major's general insistence on being surrounded by happy-making stimuli is what makes him such a pleasure to be around, a walking Disneyland exhibit. After stuffing ourselves silly in Cayucos one night with fried things from the land and sea, and complaining about how uncomfortably full we were, the Major suddenly commanded "Let's get dessert!" It wasn't just any dessert, either, but an olallieberry ("ollieberry" as he endearingly calls it) cobbler about the size of a full pie, topped with a quart of whipped cream and a pint of ice cream. I was in awe at the gustatory prowess of my dear friend, the idea of the pleasure of dessert cutting off any signals from his stomach to cease and desist. Calories are to the Major what Renaissance Spanish ceilings were to Hearst. Our little vacation seemed guided by this dual lack of resistance. Once again, sensation reigned supreme!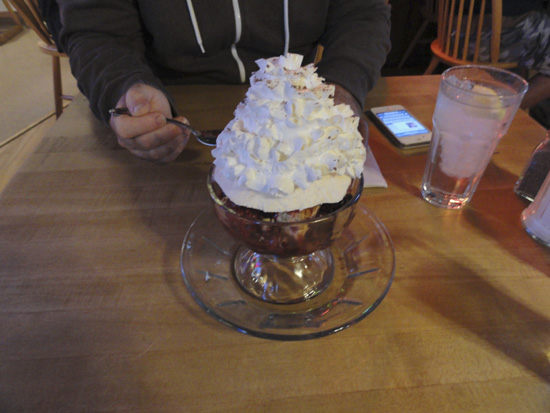 1 Comment to The Major and the Mogul: Hearst Castle
Leave a comment
Sign up!
Categories
Archives