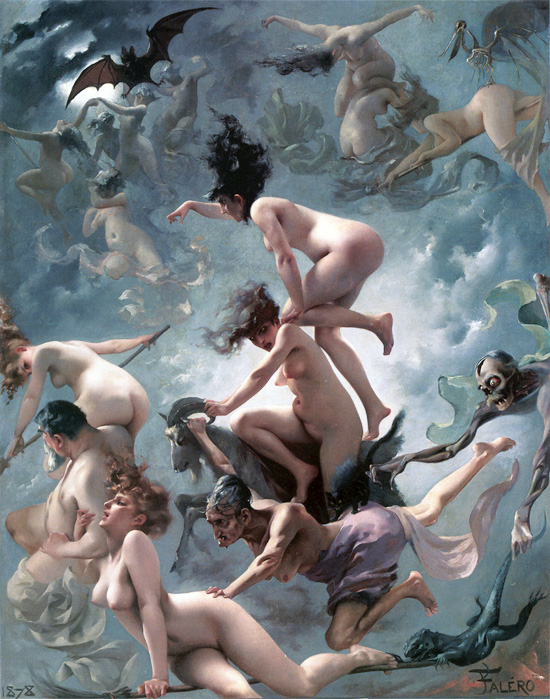 My opera-enthusiast friends S+E invited me to the opera the other night, to see Arrigo Boito's Mefistofele. It was my first time to sit in a box, and thus my first time to experience real air flow, perfect sight lines, actual leg room, and a comfy seat to boot. Not to mention completely charming and intelligent company. And my first time to stay completely awake during a 3-1/2 hour opera.
This was Boito's only completed opera, yet he was an accomplished man of letters who, among other literary accomplishments, wrote libretti for several other composers of his day, including Verdi's late masterworks Otello and Falstaff. Based on the Faust legend, the opera was a complete thrill, with opulent over-the-top sets that evoked a kind of 18th century La Fenice set in heaven, and this being San Francisco, gratuitous full-frontal (and plenty of dorsal) nudity and lots of lascivious behavior. The libretto was lusciously illustrated by the music, with trilly approximations of the emotions and subject matter, plus a few truly gorgeous arias and an ending that musically lifted us out of our seats toward redemption, right along with the repentant Faust.
In the patron lounge area, there was one woman who was just absolutely fabulous. She had to have been someone important, or rich, or both, for she was wearing those big bug-eyed black glasses that only the ultra-wealthy seem to wear, a fashion sensibility of a world far from my own. She could very well have been Cindy Sherman dressed up as a society matron, if she wasn't the actual society matron that Sherman aimed to replicate. Her bronzed face was framed by a perfectly shellacked conch of a hairdo, the bodice of her embroidered dress clinging tightly to her slim figure and hanging from a stiff collar that rose behind her head like those on silver-suited spacemen in the 1950s.
Most everybody else was dressed elegantly in black, except for me in my Mossimo corduroy jeans and Zara gold velvet jacket. I was going for the look of someone–maybe a film director or famous artist–for whom fashion is irrelevant, yet I fear that all I pulled off was Country Bumpkin.
The image above is "Witches Going to Their Sabbath" (1878), by Luis Ricardo Falero.
No comments yet.
Leave a comment
Sign up!
Categories
Archives