Here I am, back in Greece, back in Plateia Amerikis, the plaza of my people. I've been traveling around the country with Stavropoochie for the past month, now in Athens for a breather and a blog update before heading back to San Francisco next week.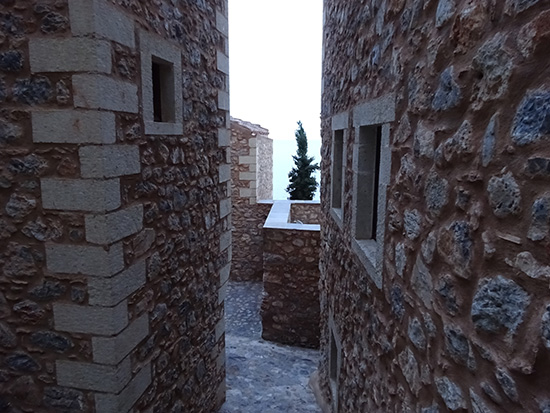 We started our adventure in Monemvasia, a walled medieval city on a big rock of an island just off the coast of the southeastern Peloponnese. It's so romantic there, like unbelievably romantic, medieval towers, surrounded by the sea below and ruins of the older town above… Lyrical, pastoral, melancholic… We ate in a restaurant in a 16th century building with stunningly beautiful views of the sea. I was almost moved to compose an Ode on my spinach pie. The French couple sitting next to us, after their second bottle of wine, couldn't control their Frenchiness and abruptly grabbed each other across the table and started French kissing, right over their salata horiatiki, cigarettes dangling from their roving hands and enveloping the rest of us in a smoky haze as they licked each other's faces, audibly, a symphony of cats joining in with their own hungry meows.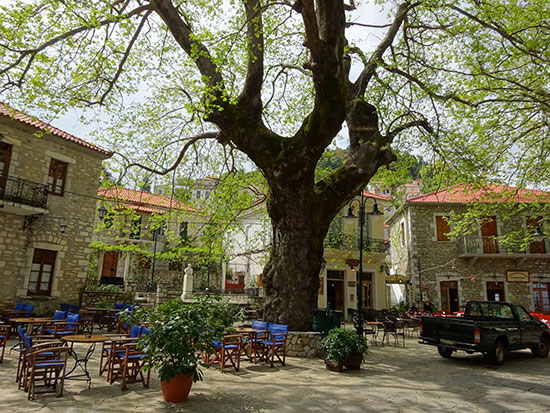 Our next stop was for galaktoboureko in Kosmas, a sweet little confection in a sweet little hilltop town shaded by beautiful old plane trees. Galaktoboureko is an intense experience of sugar conveyed through the mediums of custard and filo, the whole thing actually submerged in drippy sugar syrup. It's like drugs. I sat in the empty square with Stavros, under the plane trees, silently composing "Ode on a Slice of Galaktoboureko" in my hyperglycemic stupor. The town was destroyed in WWII but rebuilt exactly as it was before, and hopefully as it will stay forever. We visited Leonidio, a town surrounded by dramatic red cliffs. The older inhabitants there speak a language called Tsakonian, sort of like garbled Greek.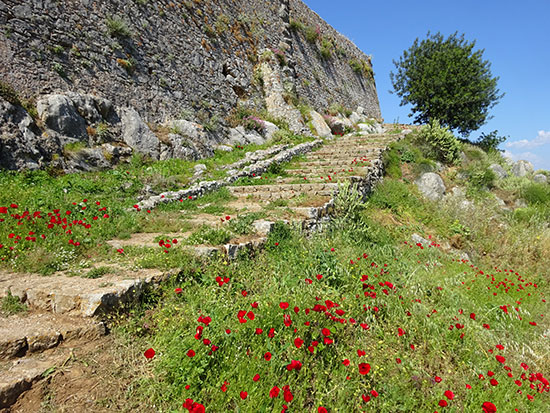 We based our exploration of Laconia, Aracadia and Argolis in Nafplio, a lovely port city with many neoclassical buildings and the nicest sidewalks in Greece. You can actually walk on them. Sidewalks in Greece are generally not very safe, aesthetically pleasing, coherent, or even seemingly designed to walk on. They have these ridged yellow tiles that are supposed to help the blind, but they lead to nowhere, they're often covered by cafe seats or other obstacles, and trees are planted right in the middle of their path. I've never seen a blind person attempt to navigate the sidewalks. Everybody walks in the streets instead. In these narrow streets filled with insane Greek drivers and even crazier velo-terrorists who see their bikes as an extension of their pedestrianism. Anyway, Nafplio, it was named the first capital in 1829 by the first head of the newly liberated Greek state. It was also where he was assassinated two years later. Walking around the streets we watched the final moments of the Eurovision song contest, projected on a big screen, and savored the victory of Conchita Wurst, the bearded queen of Austria. There wasn't a controversy in Greece over her outfit, as the guys here have been wearing dresses for quite some time.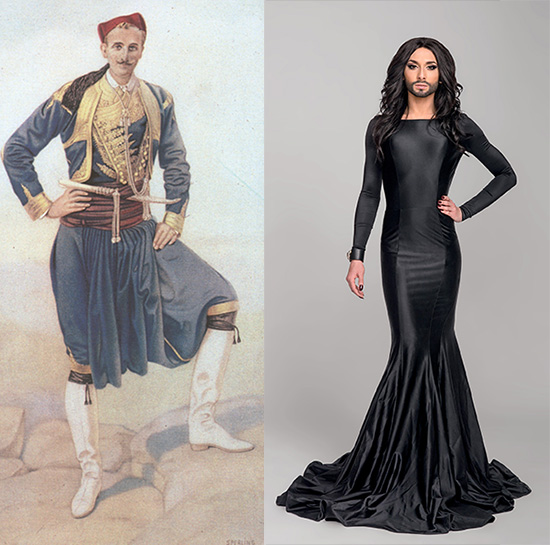 After visiting the theater at Argos we visited the temple and stadium at Ancient Nemea. The site has been funded, excavated and restored by a team from the University of California at Berkeley. It's the only archaeological site I've been to that has a rose-lined path, grass, a ha-ha, actual "Watch your step!" signs, and plaques everywhere with the names of Greek-American project sponsors. Even the marble picnic table had a sponsor's name carved into it!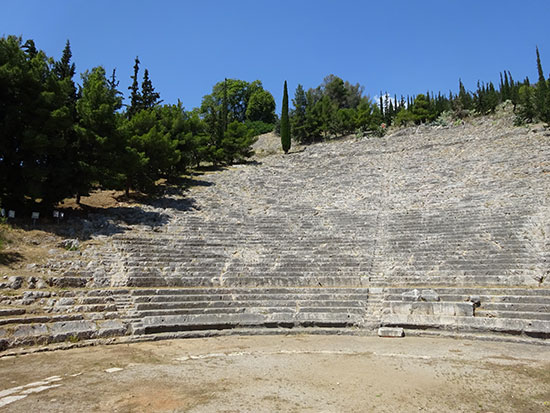 One souvlaki pita each at Pita Pan, and we headed back to Athens… Next up: Paros and Santorini. Stay tuned!
No comments yet.
Leave a comment
Sign up!
Categories
Archives