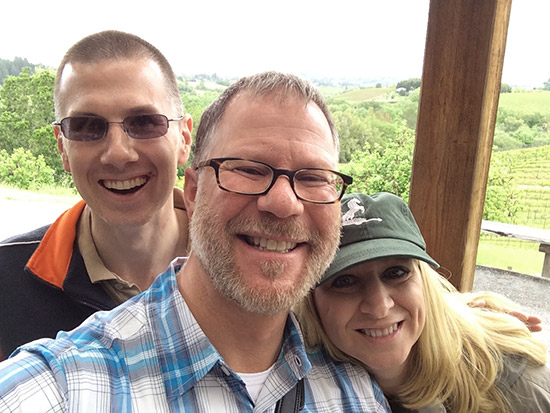 I watched an episode of Louie that I downloaded the other day here in Athens. At one point Louie mentions never having experienced the death of a loved one. Louie is a few years younger than I, and I immediately envied that cluelessly blissful loss-less state.  My lover died when I was 28, then my best friends, countless other friends and compadres, ex-lovers, beloved neighbors, then my sister…. How did he, or his character, avoid the death of a loved one?
My super-nicest-guy-in-the-world cousin Hans was killed last week, hit by a car while riding his bike.  We had been wine tasting a few weeks before in the Russian River, just a few days before I left for Greece.  At a dinner at a winery after our day of tasting, he lapsed into his usual I-love-you-man brosexual tipsiness.  His wife, my cousin Vicki, was obviously annoyed, eying him across the table with a glare that betrayed a familiar annoyance, a scene perhaps repeated, but which she lovingly tolerated, like the rest of us. His nature was so easy-going, so open and friendly and loving… those qualities became amplified by the fantastic wines they introduced me to that day. If in semi-consciousness we reveal more of ourselves, Hans confirmed what we already knew. Everyone understood this about him as soon as they met him, that he was a good person, and that he loved being alive.
The guy who ran him over left the scene, turning himself in a few days later saying it was a horrible accident, that he thought he had hit a deer. I've been fortunate in being able to say goodbye to most of my loved ones, frequently sharing their last breaths… but Hans was just forgotten on the side of the road. There's no real sense of closure, no sense of a life that was ready to end, just a tragedy and a profound absence that we have to puzzle and grieve through. Vicki had found her ideal mate, the balance in their relationship pitched to delightful perfection. Because someone else was momentarily distracted, her life is forever changed.
When someone dies, people apologize, they offer condolences, they ask if there's anything they can do… These kinds of statements mean so little to me, revealing a detachment from the anger, grief, frustration and helplessness that we're feeling. I can only say that I'm sad, so very sad. Death is a part of life, and we learn to live with it. But not Louie, not yet anyway, and I hope his character always remains in that state.
No comments yet.
Leave a comment
Sign up!
Categories
Archives