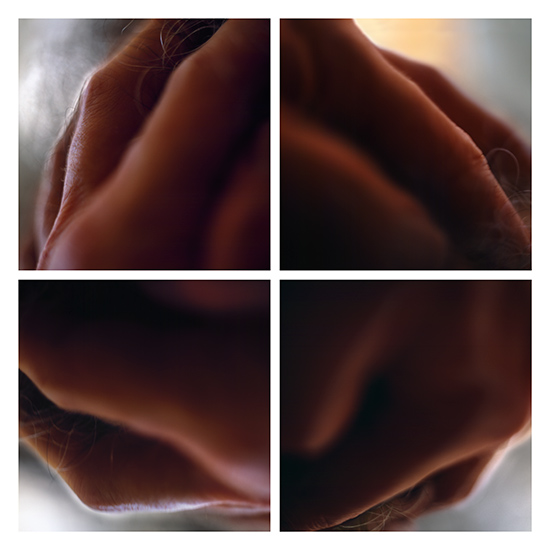 Yesterday at the gallery a woman walked in and expressed her admiration for my "beautiful flowers." I talked with her about the Cecile Brunner rose, and explained that the grids in the show were not actual flowers but were comprised of closeup images of large hairy men. "You mean big creepy guys?" she asked. "No," I replied, "men that I find beautiful, big hairy bodies that I love looking at."
In a way I found this exchange encouraging, that she was experiencing beauty in something that she had previously considered with such hostility. I aimed for subtlety in this show, like William Friedkin slipping in a flash of a sexually graphic image, to arouse a subliminal response in my viewer, but to subversively steer it in a different direction.
For this particular piece, Rosy-Fingered Dawn, the title is taken from an epithet in Homer's Odyssey, a metaphor for the beginning of Odysseus' journey, marking the dawn of a new day and symbolizing his journey from inexperience to triumph. It refers to the personification of the goddess of the morning, rising out of the ocean with rose-colored fingers, gently scattering dew.
My model for this piece was someone with whom I had a torrid but brief yet unforgettable affair. The piece records our final moment in bed, my hands running through his chest hairs, the sun rising in the background, each of us soon to depart in very different directions. The images form a sort of deep red rose, a traditional symbol of romance and passion. It's a record of the pleasure that we experienced, the dawn bringing not only the end of our time together, but the promise of a new day and new aesthetic challenges.
No comments yet.
Leave a comment
Sign up!
Categories
Archives