It's July in San Francisco. Cold, foggy, drizzly. Now that my show is up and the dogs are sleeping, I'll attempt to fill you in on some of my adventures of the past few months.
In May I spent a few weeks in Greece, exploring the northwest mainland and Corfu with little Stavros.
We visited Nikopolis, which Octavian founded following his defeat of Marc Anthony and Cleopatra. Napoleon's troops plundered and looted the site in 1789, the treasures eventually ending up with the Ali Pasha when he defeated them. So as with most of these ancient sites, there's not much left, save for some interesting floor mosaics, two theaters, a quaint little museum with the plunderers' rejects, crumbling ruins and an aqueduct, all beautifully set in gently rolling hills. The stadium, buried under weeds and bright green grass, nibbled on by sheep, must have inspired several Romantic odes. A shepherd told us with a snicker that his sheep were part of the stadium restoration.
We spent the night in Parga, a hilly resort town on the Ionic. Standing up after resting on a bench by the sea, I felt my camera slip from my lap. It seemed like forever after my eyes locked with my neighbor's that the "plunk!" that we both anticipated finally came. There was quite a scene as a local fisherman and his kid tried to get it out of the water for me. A large crowd gathered and cheered after they finally fished it out. People around town were pointing at me all night. I was able to save the images in the camera, but since the camera was on when it fell into the water, the electronics shorted out. I used my iPhone for the remainder of the trip, and realized how dependent I'd become on my camera to document and record my experience. When I first traveled to Europe in the mid 80's I refused to take pictures. This is when I was studying photography at the Art Institute but considered myself a conceptual artist. Ideas and experience were paramount, the object inconsequential. I didn't want anything mitigating my first Grand Tour. I wanted to experience the real things that I had read about and studied in art school, with my own eyes, that I'd seen in textbooks and in movies… I didn't want my memories contained within photographs, they'd always be alive in my head. And of course now I don't remember anything. Thus I've become one of those obnoxious tourists who takes pictures of every pre-historic thimble and my memories are fairly restricted to what has been photographed.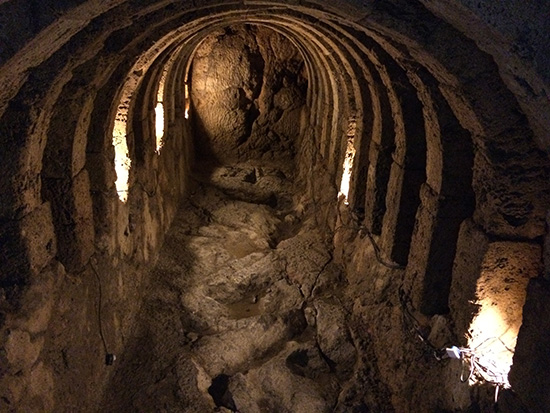 From Parga we traveled to Mesopotamos and visited the Nekromanteion, site of the ancient oracle of death and the door to Hades, where people came to connect with their dead ancestors. Three rivers join nearby and flow to the underworld. This is where Odysseus made his trip down under. On entering the temple grounds, visitors participated in an elaborate ceremony and were fed snacks laced with narcotics. After passing through a series of underground passageways, they'd pose their questions to the oracle, and the priest appeared to rise from the ground and fly around, the awed but quite stoned pilgrims unaware of the cranes and ropes hoisting them aloft. A busload of German women appeared at one point and pushed past me and Stavros in the underground chamber and held their hands solemnly to a crack in the wall, presumably seeking communion with lost loved ones. Then they hustled up the stairs and back on the bus.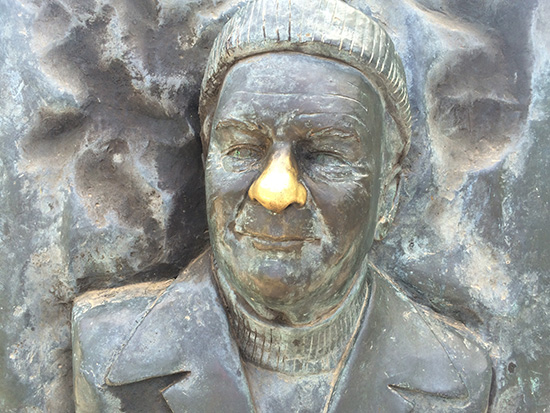 On the way to Corfu, I read Lawrence Durrell's Prospero's Cell, written before WWII. Not much has changed, it's still all "Venetian blue and gold—and utterly spoilt by the sun." Durrell says that while other countries offer discoveries in "manners or lore or landscape," Greece offers something harder—"the discovery of oneself." I don't know that I discovered any new me, but I did enjoy the manners, lore and landscape.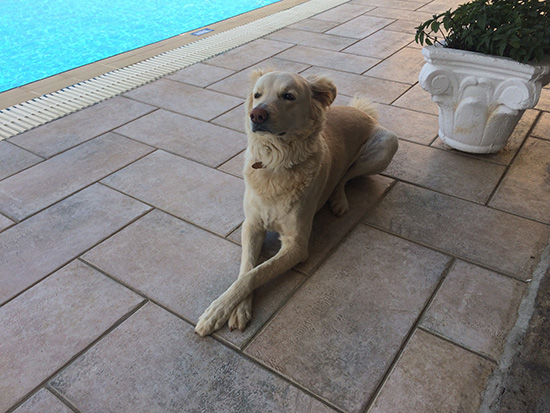 We stayed on the west coast, in the Lido Sofia apartments, perched on the cliffs overlooking Agio Ghordios and the sea. Our hostess Sofia was charming and hospitable, and made us feel like we were old buddies staying in her home. A panoramic view of the sea, a beautiful pool, free wifi, lovely rooms and home-cooking… all for €25/night. A week in Greece is cheaper than a weeknight dinner in San Francisco.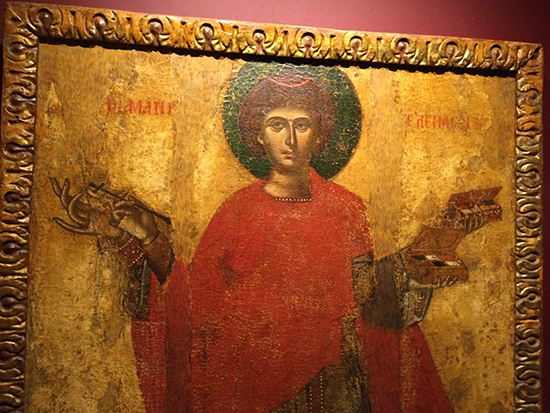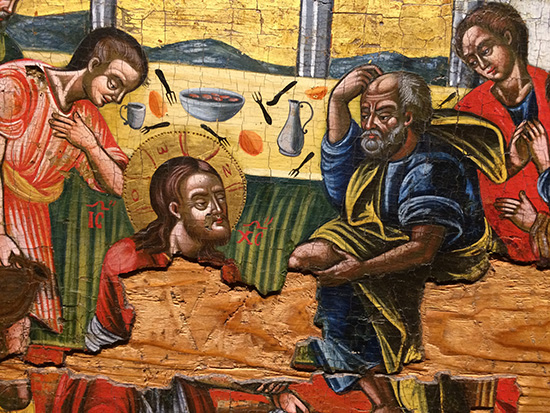 Seriously, every other guy in Corfu is named Spiros, after the island's patron saint.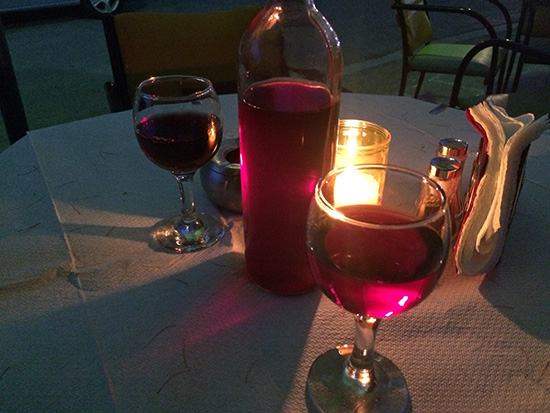 One night, in the beautiful little mountain village of Kastellanoi, we listened to a soulful singer play guitar and croon about love, on the main square with just a few other locals, drinking homemade wine, watching our souvla sizzle away on the grill across the street.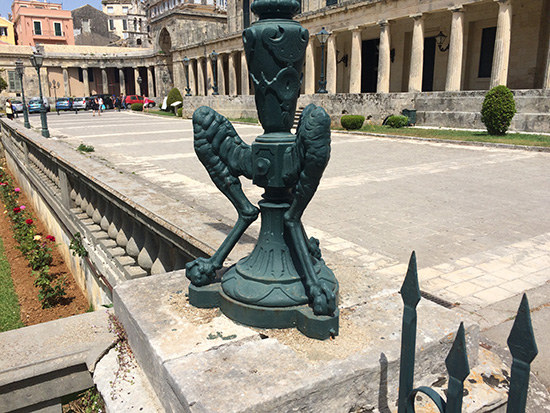 Old town Corfu is surrounded by three imposing fortifications, dating from the period of Venetian rule. The architecture of the old town also dates to the Venetian period. Passed down to successive French, British, and eventual Greek governments, the predominately Venetian buildings of the old town incorporate elements from each of the town's occupiers.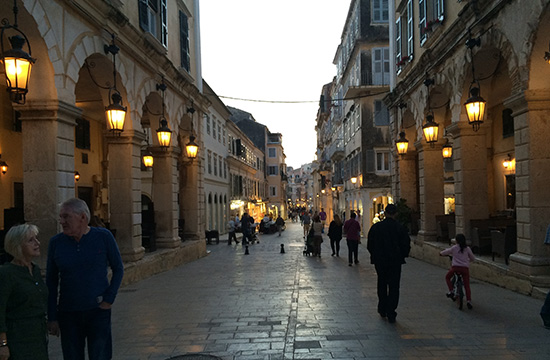 The Spianada, or esplanade, in old Corfu town is a large verdant park running between the town and the old fortress, with a bandstand, fountains, statues and a cricket field. At one end of the Spianada is the Royal Palace of Corfu, now the Museum of Asian Art, a grand neoclassical building with a beautiful pockmarked Doric colonnade. Running alongside the Spianada is the Liston, a long building with gracefully vaulted galleries, archways and hanging lanterns. The Liston was constructed during French rule, designed by a French Engineer as a mini Rue de Rivoli, now lined with elegant cafes and restaurants. When first constructed only noblemen were allowed to enter and walk along the street and under the arches. A special list ensured the area was kept elite. The name "Liston" is believed to be derived from a Venetian word that referred to both this list and a wide and straight road.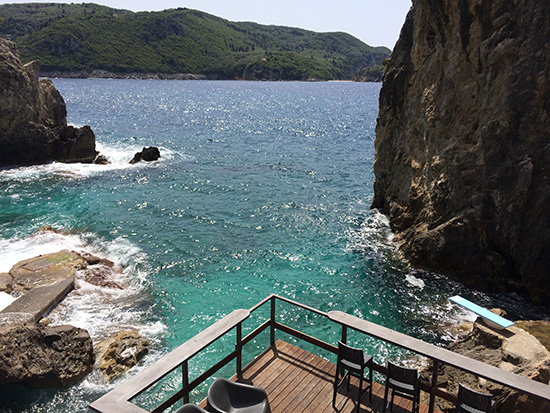 La Grotta Beach Bar in Palaiokastritsa is the world's most picturesque swimming hole. One descends a steep stairway to a terraced cafe carved out of the steep cliffs surrounding a cove of icy blue water. A sole honeymooning couple alternately dipped into the water and embraced on the rocks, making out as the water crashed around them, upright versions of Burt Lancaster and Deborah Kerr, the rest of us their captive audience, sipping our freddo cappucinos to the thumping chill-out lounge music.
On the slopes of Mount Pantokrator we visited the abandoned village of Old Perithia, first established in the 14th century as Byzantines moved inland to hide from pirate and mosquito attacks. As pirates and mosquitos became less of a problem, people slowly trickled back to the coastal towns, and now only about five people live there. The per capita taverna ratio is 1:1, with five tavernas operating amidst the crumbling, Venetian-style houses. The per capita ratio of churches is even higher, with 1.6 churches for every resident.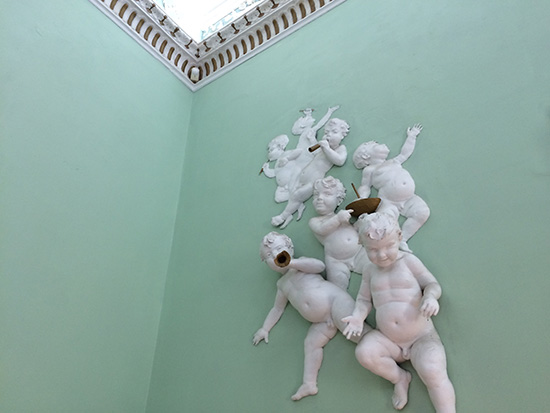 We popped in for a visit to Empress Sisi's little retreat in Corfu, the Achilleion. Elisabeth was the wife of Emperor Franz Joseph I, the Empress of Austria, as well as Queen of Hungary and Queen consort of Croatia and Bohemia. She built the retreat in Corfu to honor Achilles and her love of Greek culture, a monument to platonic romanticism, aestheticism, and escapism. It was constructed in sadness, built after her son Rudolf's murder/suicide, which set into motion events leading to WWI.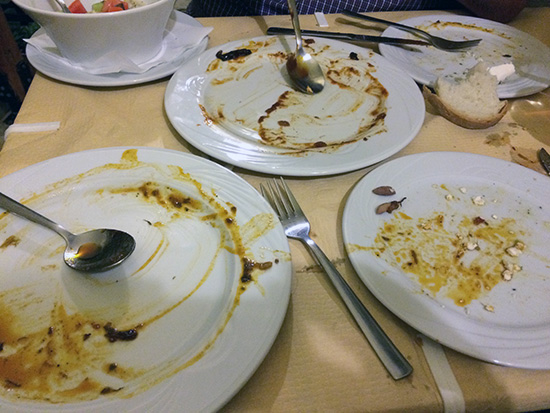 Of the many memorable meals on Corfu, one of the most memorable was at Archontariki, in Sinarades. Angelos, the owner, sat outside smoking and chatting to everybody who passed by, and invited us in. After ordering, and as Angelos and his son Vagellis chatted with us, we saw Spiridoula, the mom and cook, run down the street to buy items for our meal. The food at this family run restaurant gem was packed with flavor and sensation. The menu contained many of the same local specialties as in other restaurants in Corfu, but Spiridoula's food was different: much more flavor, expertise, most ingredients grown by her and her family. Her "Grandma's Meatballs" were exactly what I imagined my grandma's meatballs would have tasted like, if I had had a Greek grandmother.
After throughly exploring the beaches, towns, castles, sites, sounds, and tastes of Corfu, we boarded the ferry for Igoumenitsa and drove inland on the road that connects the west coast of mainland Greece to Thessaloniki. Thessaloniki is only 160 miles away, but it takes about 5 hours for a regular person to drive there. (A Greek, 2.) The new road is a public works masterpiece, snaking through and around the breathtaking Pindos mountains and a bazillion tunnels.

And what a beautiful place to have the car break down. We stalled in a tunnel, and as soon as we pulled over a phone rang. The person on the other end asked if we needed assistance. How's that for efficiency? We got off the main road so we could drive slower and stopped off in Dodoni. Dodoni was the site of an ancient oracle devoted to Dione, Aphrodite's mom. Priests and priestesses interpreted the sounds of the rustling leaves prior to dispensing their oracular guidance. The theater dates to about 300 BC, but was destroyed by Aetolians, rebuilt by Philip of Macedon, destroyed again by the Romans and then rebuilt by Augustus. Archaeologists have uncovered artifacts going back to Mycenaean times (1600-1100 BC). The theater is surrounded by mountains, fields and trees, just preposterously scenic. The site was undergoing another restoration, so I couldn't climb to the top, but above is a panoramic photo by Onno Zweers, from the Wikipedia entry about Dodona.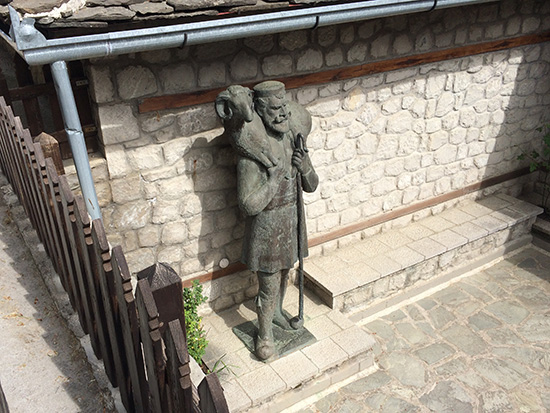 We stopped for the night in a little alpine village in the Pindos mountains, Metsovo. In Ottoman times, the residents were granted special tax privileges in exchange for guarding the mountain passages and servicing passengers. Indeed there were three mechanics in this quaint little town and about a million places to stay for under €40/night. Stone and wood houses are tucked into the hillside, arranged like eagles' nests rising upwards in a natural amphitheater from the central square. The village is the center of the Greek Vlach community. The Vlachs were originally nomadic shepherds, who claim descent from Latin-speaking Wallachians of what is now Romania. At the time of our arrival kids were running up and down the stairs of the bell tower in the central square, ringing the tower bells 400 times–representing the 400 years under "slavery," a local priest dramatically told us, or the years under Ottoman rule. Georgios Averoff was born here, considered one of the great benefactors of modern Greece, who contributed to many social, educational and infrastructure projects, including the stadium of the first modern Olympics, and a museum and school of cheesemaking in Metsovo! The butter served at breakfast was truly the most amazing dairy product I've ever experienced. Sweet, complex, aromas of grass and herbs… I felt briefly in communion with the cow's olfactory and taste sensations, imagining myself chewing the cud with the other girls on those bucolic hills. We missed seeing the 14th century monastery there, but we ate a lot of butter.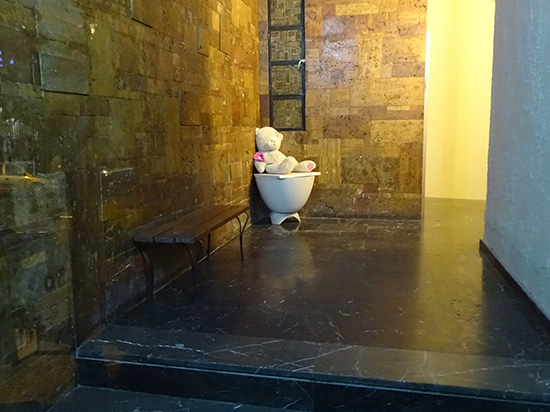 Back in Athens I had only a few days to visit with my buddies: G, who works high in the Greek government and has read more english literature than anyone I know and pens highly literate pornographic tales on the side; M, a gentle half Greek/half Brit giant in search of a meaningful relationship with an ever-elusive succession of increasingly distant and increasingly older daddy bears; T, engaged with intellectual life and microbiology; and P, my froggy nurse buddy and student of English desperately seeking his Prince Charming. I didn't get to see T, but I had a salad of baby valerian greens one night. They call it valerian, but I later discovered that it's what we call mâche. A different species of valerian grows out of cracks in the sidewalks in San Francisco, so ubiquitous that it's not even noticed, a tough drought-tolerant summer blooming perennial with heads of pink flowers that attracts both rats and cats and smells like cat pee. And there it was on the menu! Or so I thought, this common weed that is thought of as food by only certain moth and butterfly larvae. Remember when arugula was an exotic green? I daydreamed briefly of the valerian revolution I would ignite upon my return to drought-stricken northern California… Ah, but only mâche, already available at Trader Joe's, and not the stuff growing out of the cracks in front of my house… G took us to Piggy-popoulo in Pagrati for souvlaki. Pagrati is a little off the beaten tourist track, with many restaurants catering to locals. In Metaxourgio, I went to a kalamaki place called Elvis, "Sweet Home Alabama" blasting in the background, and later that night met up with P for drinks at one of my favorite spots, the Dyari Cafe. The host is always charming and welcoming. This time he treated us to a liqueur that he made from the insides of the apricot pit. "Pit" is "kookoutsi!" in Greek. I love that word, and what a kooky idea for a drink! We ended up in Kerameio, a bar in a former pottery workshop in Keramikos. The bar was packed with noisy hipsters, but P and I sat alone in the central courtyard, sipping raki and talking deep into the night. The courtyard was open to the sky, a single tree sharing the sky above us with the moon, the crowded hipsters pressed against the glass walls framing the courtyard, music blaring on their side of the glass; on ours only the sound of rustling leaves, the sweet smell of jasmine, and the intimate banter of dear friends.
1 Comment to Deep in July it's Nice to Remember the Fire of May that Made us Mellow
Leave a comment
Sign up!
Categories
Archives