Back in SF. Fight with Evil Bob II last night. Work this morning after no sleep. Haircut this afternoon. Insomnia tonight.
Need to pitch the woo. But where…?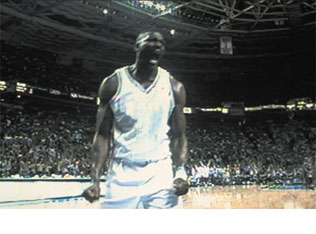 Well, the weekend in Chicago was filled with interesting little goodies… mid-century antiques on Lincoln Avenue, Giordano's stuffed pizza and Al's #1 Italian Beef, Dale Chihuly's silly glass baubles at the Garfield Park Conservatory and a captivating installation called What Barbara Jordan Wore by Donald Moffett at the Museum of Contemporary Art (which has a great permanent collection, by the way, including several recent pieces by my college mate Paul Pfeiffer that just knocked my socks off–one a video loop of a basketball player filmed from court level, flashbulbs going off in the crowd beyond, the other players digitally removed from the court, his pacing perceived initially as triumphant post-hoop posturing, but with the frequent repetition–the loop lasted only a few seconds–his movements seemed like that of a caged animal–really hot work!)
We visited the Frank Lloyd Wright buildings and his studio in Oak Park on the most perfect day of the year. I was especially wowed by his Unity Temple, which seemed like an anti-cathedral, the interior space so intimate and human, grounded heavily by natural materials like cement and stone, but with heavenly light piercing the all-glass coffered ceiling and side windows.
We spent Father's Day evening with Chris' dad Stephanie by taking her out to one of the city's hottest new restaurants, Spring. The emphasis is on seafood, accented with Asian flavors and sensibility. Some of the flavors were all over the map but came together nicely in the mouth–tuna tartare with a citrus vinaigrette and fish roe, lobster springrolls with mint and a curry-passionfruit sauce, seared sea scallops served on a bed of oxtails and mushrooms and topped with broccoli rabe, a flourless chocolate cake served with a chocolate honeycomb thingy, lavender ice cream and citrus confit (cooked in its own fat?), a chocolate dome of milk-chocolate mousse and flourless cake on a chocolate-almond disk, encased in chocolate ganache and surrounded by foamed (!) almond milk.
No comments yet.
Leave a comment
Sign up!
Categories
Archives