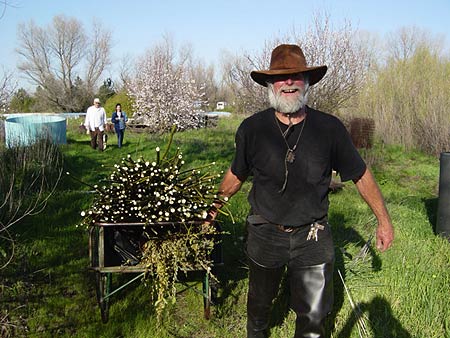 Elin has flown away, back to winter in Texas. Friday we drove over to the Sacramento River delta area, stopping first at her friend Frank's ranch near Davis. Frank (pictured above) is this very broad character, with a ruddy face and a white beard, who lapses into and out of an affected Scottish accent. Elin, Bob, and I packed a picnic and lunched with him in a pine grove near one of his ponds. He frequently stopped the conversation with "Hear that? That's a downy woodpecker" or "See that? That's a yellow-billed magpie" and on and on and on. After a while I found it hard to believe that his property could support such biological diversity, but was charmed by his knowledge and interest. He warmed to us quickly, and we to him, and even stayed on after lunch to help pick daffodils and prune his pussywillows, which he was going to sell at the market the following day.
Elin as Pinup Queen of the Pussywillows: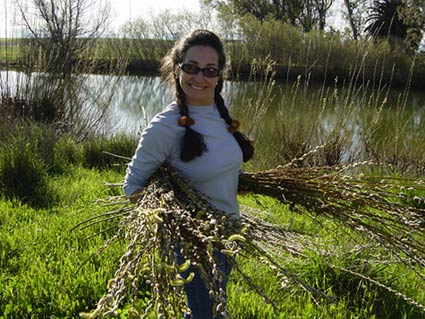 We drove from little town to little town, and were especially taken by Locke, which was constructed by local Chinese around 1920, and hasn't changed since, except for a fun-house type of bulging and tilting due to the settling and sinking of the various buildings. We ended up checking into a real fleabag of a motel in Rio Vista (Bob and Elin masqueraded as "Mom" and "Dad," and I was "Junior"), and then took off the next morning for apple pandowdy (sp?) at Sonny's in Isleton, and antiques in Rancho Cordova. I was convinced that I would find the mother lode of California Faience and Jalan pottery there, but found only junk, mounds of it, and nothing of interest except some new juice glasses from the 40's which look fantastic in my kitchen. At one point while driving along the river, supposedly heading north, we ended up in the same spot twice, and heading south. We can't figure out how we did it, since the river was always on our left, although I do remember remarking at one point how strange it was that the sun appeared to be rising in the west. Spooky.
No comments yet.
Leave a comment
Sign up!
Categories
Archives