Susan and I and her son, Jimmy, 16, drove around Pinson one night, the little suburb of Birmingham that I grew up in. It recently incorporated, and there's a hot runoff election going on now, with the candidates going door-to-door and hurling all sorts of small town accusations at each other. The Pinson that I knew, of little houses with field-stone foundations and small businesses, has been covered over by strips malls and 4-lane roads. Downtown and Triangle Park don't exist anymore. When Food World (or -Giant, or -Land) opened, it effectively closed downtown, even luring several of the businesses, like the flower shop where I got all of my high school dance boutonnières, into their ugly building. Convenience and progress at the expense of identity and charm.
So Jimmy called me "sir," and I almost had a heart attack. "Jimm-meh, don't call me sir, please." "Yes, Sir, I mean, Mr. Komater, I mean, Chris…" His mother, Susan, was one of my best friends, from a family with deep southern roots. They lived in a cool log cabin in the woods. Susan and her husband now occupy a double-wide that they parked on Susan's parents' property. In high school, Susan wanted to marry an effete poet and live in a trailer park and have a million kids. She loves Jesus and is open about being bi-sexual, although she's married with 2 kids and doesn't have a practical outlet for her homosexuality. She's one of the great wits of the south, spinning long and fabulous yarns out of her wild experiences. She's had a book in her for about 30 years, and is just in the process of writing it. I guarantee another Confederacy of Dunces. So anyway, after chicken pot pie and Ambrosia at the Dawg House ("What can I getcha, babe?"), we made our way to one of the massive warehouse-type churches on Pinson Parkway to watch her church's softball team, the Agape Underdogs. We made it just as the game ended and the team was giving post-game thanks to the Lord, only an hour into play. In lieu of 9 innings, when one team gets 11 points ahead, they call it quits. The Agape (pronounced "ah-GAH-pay") Underdogs have never made it past a few innings, although they sure try. We piled into the car and drove to Trussville, where Lisa, whom I haven't seen in about 23 years, and who had the biggest hairdo in the south ("closer to the Lord!") now runs a massive hair salon, called Kuttin' Up. She has 60 employees working in what's more like a theme park than a salon, offering everything from hair cuts and body waxes to massages and spray-on tans. We watched Lisa effortlessly give a woman who rode in on a motorcycle a fabulous wind-blown mullet, all the while entertaining us with stories of her 3 kids and cheatin' husbands and boyfriends.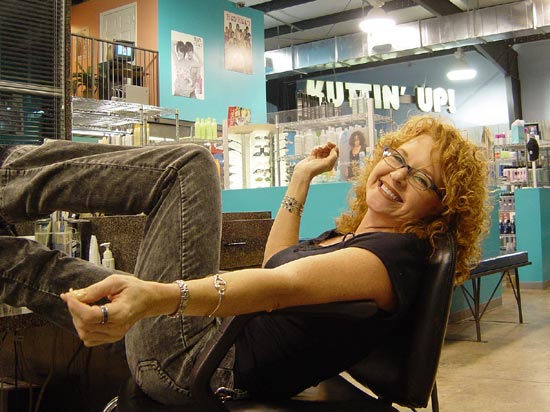 I had dinner with Pete and his lover, Jim, and James, the fugitive, one night on Birmingham's Southside. It was pasta night at Silvertron, all pastas $7.95. I had spent the whole day trying to find the perfect southern place to eat at, but they were all closed on Monday night, or just open for lunch. Anyway, Pete is just adorable, and with hardly any detectable accent–strange for an Anniston boy, and Jim's really easy-going and sweet. They compliment each other nicely—and don'tcha wanna just lick them forearms?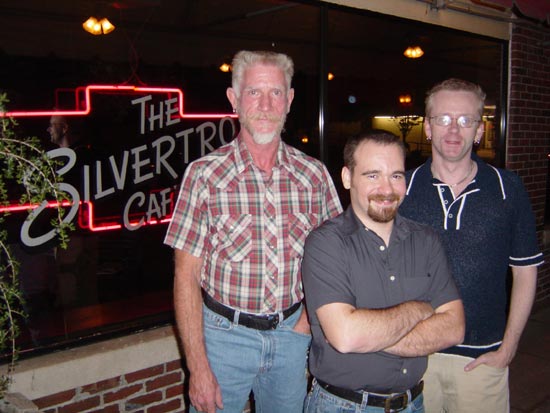 Much to my delight, the Vulcan, a colossal iron sculpture of the god of the forge, towering over Birmingham's Red Mountain and commemorating the prosperity that the iron industry brought to the region, had been restored. His naked ass hovers directly over my high school, and during my school years, I'd frequently look to that big iron butt for inspiration and solace.
No comments yet.
Leave a comment
Sign up!
Categories
Archives