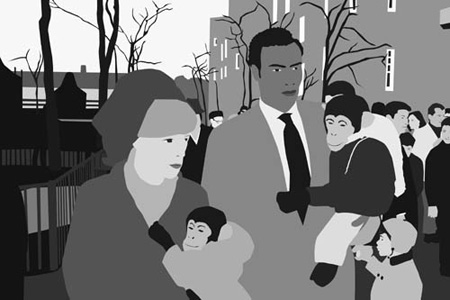 Emily and I went gallery hopping today. Our first stop was at Haines, for the Kota Ezawa show. He's become this big art star since I last saw his work, so it was actually a little difficult to focus on the content because I was adding up all the red dots. His show is calledThe History of Photography Remix and consists of iconic photographic images culled from the history of art and pop culture. The images are scanned and then output as flat Matisse-like cutouts, abstracting the diverse imagery into a single cohesive cartoony vision. It's conceptual work that aims to please, very slick and seductive, reductive in a way that plays to intellectual concerns and looks great with contemporary interiors.
The Katy Grannan portraits at Fraenkel are installed beautifully, with the walls painted gray and the lights dimmed. Her portraits are of individuals, mostly scantily clad, who expose themselves to the camera in either shallow water or this really uncomfortable-looking dark sylvan glade. The forest location seems like a trysting spot, hard to imagine as a place for a picnic, like the photographer and model sneaked off to this secluded woods together to strip and get all photographic.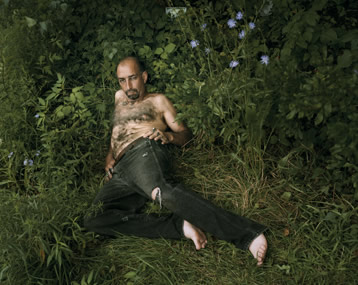 The rest of 49 Geary was uneventful, except for running into Jack Fisher, who now has a gallery there. As I walked by and read his sign, I blurted out, "Jack Fisher–I used to garden for a Jack Fisher" and out walked Jack Fisher, whose garden I used to take care of. He's been there since June, unbeknownst to me since I typically avoid that portion of the 4th floor because I can never sneak past my former dealer without being spotted and always get sucked into some endless conversation as the hours twitter away with me unable to get in an "I really must be going…" Anyway, it was great to see him there and chat, for he's a swell down-to-earth fellow, sure to rattle the building with his eclectic tastes and honest vision.
The Luggage Store, our final destination, featured the work of three fairly obsessive artists in a show called Explosive Compulsive. The show included cut paper lattice diagrams of the human nervous system, big cut paper Rorschach-y things, and large surreal apocalyptic scroll paintings. I couldn't tell who did what, but the artists were Jen Liu, Reed Anderson, and Adriane Colburne. Laurie and Daryl, the directors, told me that for the next show an artist is flying in an actual chunk of a New Haven, Connecticut street, and even recreating the weather conditions with snow and a cloud that he's making with a "cloud machine." The Luggage Store rocks!
And speaking of contemporary interiors, my bedroom is unseasonably bright and mod now, with my new triple-tiered 3/4 Coco-sized Modeline globe lamp!
No comments yet.
Leave a comment
Sign up!
Categories
Archives