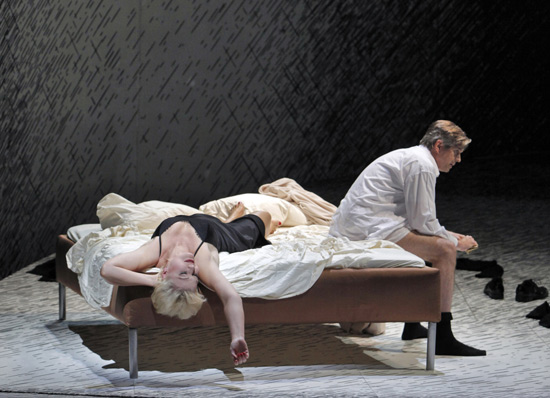 Dean W and I saw Leoš Janáček's The Makropulos Case last week at the SF Opera.  It's a stunning opera—visually, conceptually and musically—about the meaninglessness of a life without end, without enduring love.
This weekend I went a-gallery-hopping with Emily and Big Chrissy.  Nothing really exciting, except for a fascinating show by Ishan Clemenco at NOMA Gallery of chalk drawings on light filters and film.  Ephemeral and delicate, their existence impossible to imagine outside of the show—just for us.  Oh, and Bruno Fazzolari's show at Jancar Jones, a small grouping of paintings with colorful squiggly gestures and jiggly lines that almost coalesce into something recognizable, and a perfume that when sprayed at Emily, coalesced into too much association.  And stayed with us the rest of the afternoon.  Bravo, what a great show.
Earlier in the day, I was told by my then current paramour that he was feeling depressed.  I promised to return as soon as I could to check in on him, and that we would have the evening to spend together to get to what was going on.  After galleries, I ran up to his place to check in on him, and in his place found used condoms and condom wrappers scattered about.  Actually, they weren't scattered about—not by him, anyway, and not to begin with—they were in the trash, which I had dumped out on the floor before tossing them onto his bed.  Then I called and left a message on his voicemail, an angry but concise admonition saying I looked forward to hearing about the DNA I had just encountered.  See you at 6, honey.
I went on to Chris J's 70th birthday party, with Big Chrissy and my sister, June.  Chris lives in an environment that seems dreamed up by Armistead Maupin.  From a south-of-Market alley, you pass through a low-ceilinged walkway into a lush garden, with overgrown tropical plants and a giant redwood tree, a koi pond and bridge, antique asian garden ornamentation, lanterns, and oversized mirrors that extend the garden into impossible space.  Hovering over one side of the garden, above the entryway, is a quaint little Victorian cottage.  To the left is a showroom featuring asian and european antiques.  The showroom is a cavernous space, a giant fireplace on one side, flanked by 2nd floor balconies overlooking the main gallery, packed with polychromed crucifixes from 16th century Genoa, antique phalluses, masks, japanese pottery…  Chris lives in an apartment adjacent to the main gallery, stylishly decorated to match the asian sensibility on display next door.  A magical space.  I mingled with the glamoratti of the San Francisco landscaping world, as well as old buddies that I hadn't seen in decades, all of us middle-aged and beyond, and looking it with our graying whiskers and expanding waistlines.  Except for Michael Brown, who looks exactly like he did when we tossed dough at Marcello's Pizza 25 years ago.
When I got home, he was there, my depressed paramour, in my bed. He claimed that he didn't know how the condoms got there. The used condoms in his studio apartment.  Where he lives alone. We'd been through this before, so I calmly, no, hysterically and yes, okay, histrionically, asked him to leave, that I'd finally had enough.  Get out. I left the bedroom to cool off and when I came back he was in the kitchen, trying to cut his wrists with the wrong side of the knife.  I rolled my eyes and asked for the knife.
"I took your Vicodin," he said.
Where? How many? I had a prescription that my oral surgeon gave me last week following a wisdom tooth removal. I checked them, they seemed all there.
"Oh, is that your Vicodin? I took something from the cabinet." I went to the cabinet and noticed the empty bottle.  You took my Clomiphene??  Do you know how expensive that is?  How many?
"7. What's Clomiphene?"
I ignored the question.  I don't know if that's a lethal dose, I have to call 911.  I called.  "What's Clomiphene?"  the operator asked.
It's a fertility treatment for women.
"Do you have a roommate who wants to get pregnant?"
No, it's mine.  I use it because my testosterone level was low.
"A fertility treatment for women?  What does this have to do with your testosterone level?"
It works this way in men, increasing their testosterone level.
"Oh, that's great.  We're sending someone out immediately.  Is he suicidal?"
Are you suicidal?
"No, I just want to sleep."
No, he says he was just trying to sleep, but earlier he was depressed and then I went to his house and found these used condoms and confronted him about them.  I think he's been cheating on me.
"I'd say you're probably right.  Well, the paramedics will be there any minute.  Stay with me, let know if he looks drowsy."  There was a knock at the door.  6 police officers came up the stairs. 6 incredibly handsome burly pink-faced men in black.
"What's the problem?"
I batted my eyes. He took an overdose of Clomiphene. I pointed at  him.
"What's Clomiphene?"
It's a fertility treatment for women, induces ovulation.
"Why did he take it?"
He thought it was Vicodin.
"Why do you have it?"
My testosterone level was low, it stimulates testosterone production in men, even though it wasn't designed to do this.  My doctor is at the forefront of studying this drug's effect on testosterone levels.
"How is that working for you?"
Fine, thanks.  I blushed.  The paramedics then arrived, 6 more guys in my little bedroom.  6 more handsome burly lifesavers. "What's going on?  What did he take?" one of them asked.
He took 7 Clomiphene.
"What's Clomiphene?"
"Evidently, it induces ovulation in women," the first police officer replied.
"Who does it belong to?"
"Him."  All 12 guys looked at me.  Before they opened their mouths to ask, I blurted, It also increases the production of testosterone in men.  My testosterone level was low.  It's an alternative to taking testosterone shots, inducing the body to produce it naturally.  But could we really stop talking about my testosterone level?  Is he going to die?  Do you have to pump his stomach?
"That's so interesting," one paramedic said, "I haven't heard of Clomiphene being used for low testosterone levels."
"Yea," said another.  A third cleared his throat, then turned to my suicidal bed guest.  "Are you suicidal?"
"No, I just want to sleep."
Earlier he was depressed and then I went to his house and found these used condoms and confronted him about them.  I think he's been cheating on me.
"I'd say that's a good guess," he snickered at me under his breath.  Turning to the furry little man who was supposed to love me and only me forever, he said "Okay, let's get you to the hospital."
And away they went.
No comments yet.
Leave a comment
Sign up!
Categories
Archives