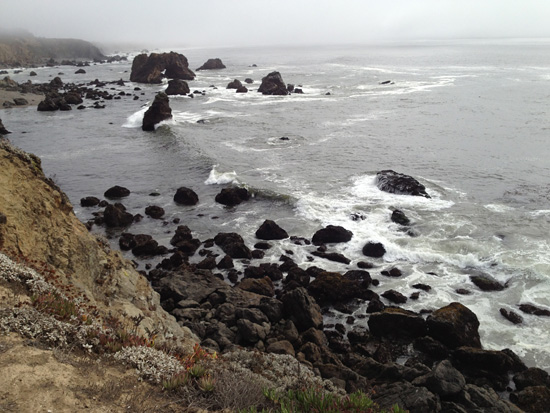 I'm back in San Francisco. After an unforgettable month in Greece, Stavros broke up with me, again, about an hour after getting home. I frankly don't know how to move away from him this time (did I ever? lol) as he's breaking up with me not because he doesn't care for me, but because of some partially explained fears, nothing that I can quite understand. When people love each other, don't they try to figure that stuff out? Doesn't love have priority? Aren't these fears actually a reason to stay together? I don't mean that in a (I loathe this word I'm about to type) codependent way, I mean that it doesn't seem necessary to eliminate potential bliss in one of life's departments just because there's unrelated stuff to deal with in other departments. I'm a compartmentalizer and a sensualist, not a codependent. I can hear the groan from my Chorus of Therapists, but you guys keep it down over there! But seriously, what's better than love? It's like I'm waking up in Backwards Land: I love you so much that I'm breaking up with you?
He sent me a note the morning after, saying he just needed some time, so a glimmer of hope to cling to. I'm trying to give it to him, but man, is it hard when we've been so intimate and close. The silence is almost unbearable, his absence a profoundly palpable heaviness that I carry with me all day. And he's a pretty big guy, remember? I've tried to hide my disappointment and distress from him, thinking I don't want to manipulate him into being with me, that he shouldn't stay with me just because he doesn't want to see me hurt. This is why I'm crying on your shoulder, Internet.
My homies swept me away on Saturday, up the coast for barbecued oysters on Tomales Bay. We're on very friendly terms with the staff, as we tend to pass by that way a lot, and they greeted us warmly with big hugs and even bigger smiles, which cheered me up somewhat. The oysters were monstrously large, vulgar really, and barbecued they were like…
Okay, stop the presses. I just FaceTimed with a drunken Stavros, and if I can't tell a man in love then I'm a monkey's uncle. Sheesh, I don't even finish my breakup blogpost and we're back together again. At least I think we are. I hope we are. He is tipsy, but it seems apparent that he's struggling against some strong feelings for me. Turn the "no vacancy" sign back on and join me in a chorus of "A Wonderful Guy!" Hurray for love! But wait a sec—will he regret what he expressed when he wakes up? Until I have that ring on my finger, I'm going to be trepidatious. I wish this guy were in therapy. I can hear the therapist telling him to stop resisting and go with what he's really feeling. (This is my blogpost and my imaginary therapist, so no corrective comments from the Chorus, okay?)
My tan in Greece just looks like a darker shade of pale, or a muddy tone of pink, when compared to the gorgeous golden olive brown skin of the Greeks, but here in San Francisco, where only tourists wear shorts in July, I'm actually tan. I've never been this color!
It's a happy day. A happy happy day.
1 Comment to A Darker Shade of Pale
Leave a comment
Sign up!
Categories
Archives