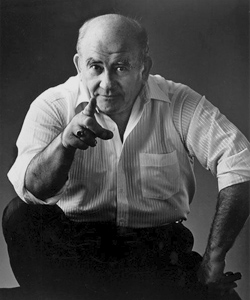 At the end of the play, Chrissy said, "Isn't he just the cutest thing?" and I replied, "Yes, he really is looking more and more like Santa," wiping a small tear from the corner of my eye. Perplexed, Chrissy replied, "I was talking about Paul Rudd."
I of course, couldn't imagine that he wasn't talking about Ed Asner. Chrissy and I saw him onstage tonight at the Cort Theater in a production of Grace. He's at the age when he's an "and Ed Asner" on the Playbill, but he'll always be at the top of my billing. I was only 30 feet or so away from him, close enough to see the still barely visible forearm hairs that fueled so much of my teen and midlife crises, finally none of those pesky screen lines between us.
The play took place in two identical apartments, across the street from each other, but, cleverly, only one stage set was used, as if one apartment were superimposed on the other. So you see all the characters in one space, even though they're in different apartments. The play opens with the characters dead on the floor of the apartment, and then the action proceeds backwards, the actors delivering the lines in reverse that they would repeat again in proper sequence at the end of the play. So the play was not about who killed all the characters in the play, but why.
Read Ben Brantley's review if interested in the theological and philosophical thesis behind the play, it's midnight and I'm turning into a pumpkin.
No comments yet.
Leave a comment
Sign up!
Categories
Archives